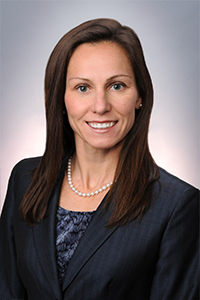 Kate E. Brinkmeyer, Indianapolis Personal Injury Attorney
Contact Information
Kate E. Brinkmeyer
Hankey Law Office
434 East New York Street
Indianapolis, IN 46202
Phone: (317) 634-8565
Fax: (317) 634-9818
Katie Brinkmeyer joined the Hankey Law Office in 2020, and she has been practicing in the field of Social Security Disability law since 2008. With her background, she brings a plethora of specialized knowledge! Katie practices Social Security at all levels of Adjudication, including into Federal court. She focuses on analyzing denials from the Appeals Council, identifying errors of law and deficiencies in the Administrative Law Judges' ("ALJs") decisions, and pursuing those cases in the District Courts.
Katie's legal career began at a small firm in Indianapolis, where she helped develop the Social Security Disability and Worker's Compensation practice groups. In 2010, she felt called to public service, and she became an attorney advisor at the Social Security Administration's Office of Hearing Operations in Indianapolis, Indiana. As an attorney advisor, Katie worked closely with the ALJs to write timely and legally defensible draft decisions, pursuant to instructions from ALJs. These covered a wide range of issues, both procedural and substantive, in the determination of disability for Title II and Title XVI claims, including cases remanded by the Seventh Circuit and Federal District Courts. She acquired comprehensive knowledge and understanding of the Social Security Regulations, Rulings, and Agency policy for Title II and Title XVI claims. She conducted extensive analysis of medical records and synthesized clinical findings, physical examinations, medical expert opinions, treating source statements, hearing testimony, and subjective statements by claimants in the record in order to ascertain relevant issues and facts. Katie also resolved unique, complex, and technical issues in Title II and Title XVI cases, including post-entitlement claims by researching Seventh Circuit Court of Appeals' opinions which potentially altered the interpretation of the Social Security Act, statutes, and Code of Federal Regulations.
Katie is passionate about improving the functionality and judicial efficiency of the Social Security Administration. She is an active sustaining member of the National Organization of Social Security Representatives, where she weighs in on proposed changes to the regulations and policies being discussed in Washington, D.C. She also presents on relevant topics at the national conferences.
Katie is a Hoosier native and was born and raised in Central Indiana. She comes from a family of working class Americans. Her grandparents were farmers, welders, and carpenters, and her father worked in the automotive industry. She resided in Bloomington, Indiana, for seven years while earning her Bachelor's degree from the Kelly School of Business and her Law degree from the Maurer School of Law. She became an avid cyclist while studying in Bloomington, which led her to meet her husband. They now reside just outside of Indianapolis with their two daughters. Outside of the office, Katie enjoys bike riding and hiking with her family, and teaching Learn-To-Skate classes.
Areas Of Practice:
Appeals Council Appeals
Federal Court Appeals
Professional Associations and Memberships:
Active member in the National Organization for Social Security Claimant's Representatives (NOSSCR)
Active member in the Indianapolis Bar Association
Admissions:
Admitted to Practice in Illinois and Indiana