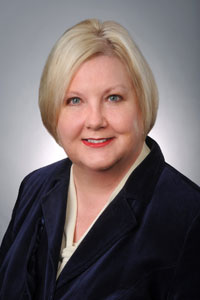 Sondra L. Burger, Indianapolis Personal Injury Attorney
Contact Information
Sondra L. Burger
Hankey Law Office
434 East New York Street
Indianapolis, IN 46202
Phone: (317) 634-8565
Fax: (317) 634-9818
Attorney and Indianapolis native Sondra Burger has been practicing with the Hankey Law Office since 1990. Her areas of practice include social security disability law, worker's compensation and personal injury.
Sondra received her law degree from Indiana University Robert H. McKinney School of Law. She graduated with her bachelor's degree in telecommunications and theatre from IUPUI. Sondra attended Ladywood High School and graduated from Arlington High School in Indianapolis.
She has been married to her husband, Ray, for over 30 years and has two beautiful daughters who attended Cathedral High School and Cardinal Ritter High School. Her family is actively involved at St. Monica parish in Indianapolis. In her free time she enjoys traveling, jewelry making, gardening, reading and continued education.
Her professional fulfillment comes from helping clients. She is constantly humbled by the courage with which her clients face daily adversity. They come to her overwhelmed by medical illness, and financial woes, but still have hope for their future and love in their hearts. Her greatest achievement as an attorney is representing her clients to the best of her ability so they can be awarded the benefits they rightfully deserve.
Current Employment Position:
Areas Of Practice:
Professional Associations and Memberships:
Active member in the American Association for Justice
Active member in the Indiana Bar Association
Active member in the Indianapolis Bar Association
Active member in the National Organization of Social Security Claimants Representatives (NOSSCR)