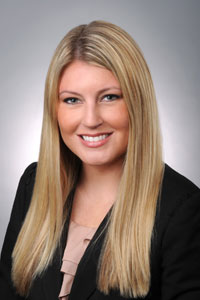 Stacy J. Crider
Contact Information
Stacy J. Crider
Hankey Law Office
434 East New York Street
Indianapolis, IN 46202
Phone: (317) 634-8565
Fax: (317) 634-9818
Stacy J. Crider joined the Hankey Law Office in 2010 as an associate. Her primary practice areas are Social Security Disability and Worker's Compensation.
She graduated from law school in 2009 and earned her J.D. from the Indiana University Robert H. McKinney School of Law. While in law school, she served as a student attorney for the Criminal Defense and Wrongful Conviction Clinic where she represented clients pro bono in the Marion County D Felony Court as well as worked on wrongful conviction appeals. She was a member of Phi Delta Phi legal fraternity and was selected as a pupil for the Indianapolis branch of the American Inns of Court. Graduating a semester early, she received her Bachelor's Degree in Criminal Justice with minors in Psychology and Political Science from Indiana University in 2003. While at Indiana University, she was chosen to work for the Innocence Project as a research assistant, a cause that remains very important to her.
Prior to joining the Hankey Law Office, Stacy worked as a criminal defense attorney in Bloomington, Indiana.
Stacy volunteers for the American Foundation for Suicide Prevention. She is particularly passionate about the group's annual "Out of the Darkness Campus Walk" that is held in Columbus, Indiana. In her free time she enjoys traveling, kayaking, concerts and spending time with her husband, Bobby, and son, Samuel.
Current Employment Position:
Areas of Practice:
Professional Associations and Memberships:
Active member in the Indiana Bar Association
Active member in the Indianapolis Bar Association
Active member in the American Association for Justice
Active member in the Indiana Trial Lawyers Association
Active member in the Indiana Workers' Injury Law & Advocacy Group