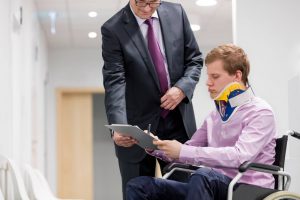 If your medical condition prevents you from maintaining employment, contact Hankey Marks & Crider immediately. You might be entitled to benefits through Social Security disability insurance.
Social Security disability (SSD) benefits pay for a portion of a person's lost wages if they can't return to their job or seek employment elsewhere. Payment amounts depend on the credits an employee earns based on the number of years they work and the amount of Social Security taxes they've paid over their working life.
Hankey Marks & Crider understands the financial burden of an injury or illness that keeps you from earning a living. You have various expenses to pay and might be unable to afford them. We can help you file your application for benefits or appeal a denied claim. We will protect your rights during the entire process and fight for the maximum benefits you deserve.
Call Hankey Marks & Crider at (317) 634-8565 for your free consultation with one of our experienced Social Security disability lawyers in Meridian Hills, IN.
Should I Hire a Social Security Disability Attorney?
Seeking legal representation to recover SSD benefits is critical. Many people who attempt to handle a claim without a lawyer's assistance may not receive benefits for the entire period that they might be eligible for. It can be a complicated process to navigate alone, especially if you don't know filing requirements, deadlines, and Social Security regulations.
Hankey Marks & Crider can take over your claim and complete every step on your behalf, such as:
Obtaining medical evidence to prove you have an eligible condition
Filing the application and all necessary paperwork with the Social Security Administration
Following up with the SSA to confirm receipt of the application and timely processing
Appealing an unfairly denied claim and providing additional evidence to support a qualifying medical condition
Reviewing benefit payments to determine whether they reflect the maximum amount you should receive
Pursuing a lawsuit for SSD benefits after a denied appeal
Hankey Marks & Crider has fought for the rights of injured and sick workers since 1975. We have the resources and skills to take on the Social Security Administration and seek the benefits our clients rightfully deserve.
Why Hire Hankey Marks & Crider?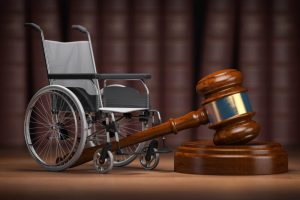 The Meridian Hills Social Security disability lawyers of Hankey Marks & Crider have over 75 years of combined legal experience. We successfully represent clients in the most complex cases, including denied claims and appeals. When you hire us, we will provide personalized attention and support during every step of the process.
With 24/7 availability, you can reach us when you need us most. We understand the importance of quality customer service. You will be our top priority while we work on your claim. We believe every worker who develops a disabling condition or injury deserves the opportunity to recover SSD benefits to compensate for a loss of income.
Hankey Marks & Crider has a reputation for treating our clients with respect and compassion and achieving favorable case results. Our work has earned multiple awards and accolades from organizations, such as The National Trial Lawyers and Super Lawyers. We also have a 10.0 Superb rating from Avvo, the highest possible rating an attorney can receive.
Social Security Disability Cases Hankey Marks & Crider Takes
Hankey Marks & Crider can represent you in various legal matters, including:
How to Apply for Social Security Disability Benefits
Multiple options are available to file a claim for benefits:
Online – The most convenient method is filing a claim online. The website contains detailed instructions to guide you through every step.
Phone – You can call 1-800-772-1213 for a representative to mail you an application. The representative can instruct you about how to complete the necessary documentation and file your claim.
In-person – If you want to apply for benefits in person, you can visit a Social Security field office.
Your best option is to contact Hankey Marks & Crider and let us file the claim for you. We can fill out the application completely and accurately and file it within the necessary timeframe. If you try to take on the responsibility yourself, you will likely make a mistake that delays the entire process or results in a denied claim.
Understanding Social Security Disability Insurance
Social Security disability insurance is a federal program that assists people with disabilities. Benefits come from the Social Security taxes an employee pays during their employment.
Qualifying for SSD benefits requires earning at least 40 Social Security credits. According to the 2022 rate, you can earn one credit for every $1,510 you make in covered earnings each year. A maximum of four credits is allowed every year.
Payment amounts depend on an employee's work history. The longer someone remains employed and pays Social Security taxes, the more benefits are available.
Frequently Asked Questions
Hankey Marks & Crider has answered the most common questions clients ask below. You should review them so you have additional information about your claim for benefits.
What medical conditions qualify for Social Security disability?
The Social Security Administration has a list of qualifying medical conditions. A condition is considered a disability when a person cannot participate in substantial gainful activity due to physical or mental impairments expected to last longer than twelve months diagnosed by a medical provider.
What should I do if I receive a denied SSD claim?
You can file an appeal if the SSA denies your claim for benefits. The denial letter you receive should include the reasoning for the decision and the level of appeal you must file.
What are my options if I don't qualify for SSD benefits?
If you're ineligible for SSD coverage, you might be able to apply for Supplemental Security Income benefits. Instead of using a person's employment history, the SSA evaluates assets and income. An individual's assets cannot exceed $2,000. Couples applying for benefits must not have more than $3,000 in assets to be eligible for SSI.
Contact Us
Hankey Marks & Crider knows receiving timely Social Security disability benefits is vital. You can't afford your medical bills and daily living expenses without them. Our Social Security disability lawyers in Meridian Hills, IN, will be your advocate and aggressively pursue the maximum monthly payments you need and deserve.
If you're filing an initial claim for SSD benefits or appealing a denied claim, call Hankey Marks & Crider at (317) 634-8565 immediately for your free consultation. Let us handle the complex procedure on your behalf so you can focus on treating your injury or illness.