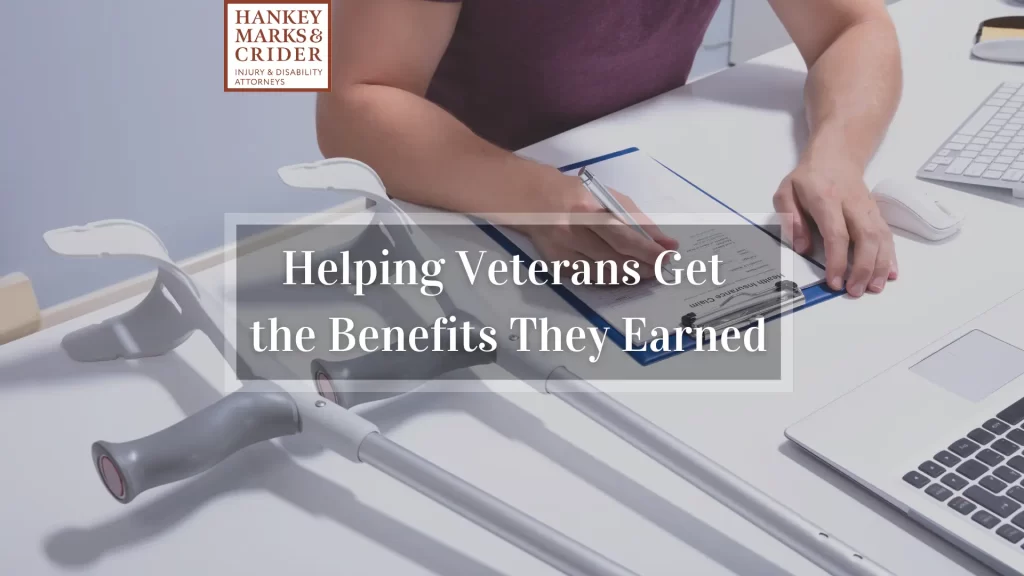 If you are struggling with a VA disability claim, our skilled legal team can help you stabilize your finances by securing the benefits you deserve. The Indianapolis VA disability lawyers at Hankey Marks & Crider have the experience you need, helping injured and disabled individuals across Indiana. Our attorneys have a total combined experience of over 75 years.   We have gained the knowledge and abilities to handle even the most complex VA disability cases. Some of the ways our attorneys can help are outlined below.
After fighting for your country, the last thing you should have to now fight for is your VA disability benefits. That is where Hankey Marks & Crider comes in. Hankey Marks & Crider was established in 1975 with a strict set of values. They believe everyone deserves respect, compassion, and the ability to present their best legal case. They strive to treat each client in the same way they would want their own family to be treated if they had to go through this process.
Appeal a Denied VA Disability Claim
If your application for a service-connected disability has been denied, the VA provides one year for an appeal.  An attorney can choose the best appeals track for your specific situation, and help submit and present additional evidence. In general, the VA offers three ways to appeal a denial:
The Higher-Level Review Lane: This appeal is submitted to a Senior Claims Adjudicator who reviews the existing record. New evidence cannot be submitted.
The Supplemental Claim Lane: This appeal allows "new and relevant" evidence to be submitted for review.
The Board of Veterans' Appeals Lane: This type of appeal allows the case to be filed directly to the Board of Veterans' Appeals. This lane has three dockets:

The District Review Request is an appeal that does not allow submission of new evidence and does not involve a hearing.
The Evidence Submission Request allows new evidence, but does not involve a hearing.
The Hearing Docket Request, where a request for a hearing is filed and new evidence submitted.
Appeal of a Low Rating
If you receive a service-connected disability award rating that seems low, contact Hankey Marks & Crider for a free consultation regarding how they may be able to assist you. In order to increase a rating, an attorney can help decide whether to file an appeal, a new claim, a claim for TDIU, or file a secondary service connection claim.
Total Disability Individual Unemployability (TDIU)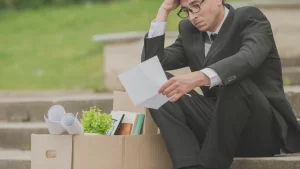 TDIU is a benefit for Veterans who are unable to work due to a service-connected disability, or disabilities. They are to be paid a benefit equal to a 100 percent rating, even if their combined disability rating does not total 100 percent on the schedule. Veterans unable to maintain work above poverty level due to service-connected disabilities can qualify for Individual Unemployability benefits.
The requirements for Individual Unemployability are generally:
One service-connected disability, rated at least 60 percent disabling; OR
Multiple service-connected disabilities, with one condition rated at least 40 percent and a combined total rating of at least 70 percent.
Suppose a Veteran does not meet one of these criteria. In that case, VA also allows the Veteran to show that the rating schedule does not accurately portray the functional limitations caused by their conditions.
Examples of secondary conditions include:
A service-connected back injury impacts the way the Veteran walks, which leads to knee or hip problems. Additional compensation may be awarded for the knee or hip impairments.
Sometimes a Veteran develops conditions or illnesses as a side effect of medication used to treat the service-connected condition. This additional illness may qualify for additional compensation.
Many Veterans with service-connected diabetes later develop neuropathy, which can lead to increased compensation.

Backpay Disputes
If you've been awarded benefits, how do you know if you've been awarded all the backpay you are entitled to?  An incorrect effective date may result in years of lost benefit payments. Eligibility date rules are determined by:
Whether the claim was for Direct Service Connection or Presumptive Service Connection
How soon after leaving service your illness began
Whether the claim is to reopen an earlier claim
According to the Board of Veterans Appeals (BVA) Annual Report for Fiscal Year 2021, there was a 32% acceptance rate for legacy decisions and 38.1% for AMA decisions.
There is no attorney fee unless we obtain backpay for you.  The fee applies only to past due benefits – future benefits are not subject to attorney fees.
Whether your claim is part of the Legacy System, or the newer AMA (Appeals Modernization Act) system, the attorneys at Hankey Marks & Crider can assist you. Contact us today to learn about how we can help you with your VA disability claim. Our consultations are free and only paid when we win your claim. You can call us at (317) 634-8565, submit an intake form on our website, or make use of our 24/7 live chat feature. We look forward to speaking with you soon.