Lawrence Social Security Disability Lawyers
Social Security Disability Insurance (SSDI) is a federally funded insurance program. It is managed by the Social Security Administration and is designed to assist people who have disabilities that prevent them from working.
Even though the program's benefits should be available to all eligible U.S. citizens, the application process is complex and challenging, and most people's initial application is denied. It can feel as if the system that is supposed to help you is working against you.
However, you do not have to fight on your own for the benefits you are owed for one more day. At Hankey Marks & Crider, we have a team of professionals who can help you through every step of the process and will aggressively work to get you the benefits you need.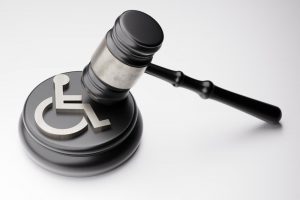 We believe that every person deserves respect, compassion, and the best legal representation possible. We work to treat every client the way we would want to be treated. If you are filing for SSDI in Lawrence, Indiana, the lawyers of Hankey Marks & Crider could be strong advocates for you.
Call our office today at (317) 634-8565 to schedule a free consultation. You will sit down with one of our legal professionals, who will review your case and answer your questions.
Who Is Eligible for Social Security Disability?
To qualify for SSDI benefits, you must have worked in a job where you paid into the Social Security system and earned a specific number of credits. Your physical or mental health condition must also meet the strict Social Security Administration definition of disability, which is different from definitions used by other programs.
SSDI only pays for total disability and not for short-term or partial disability. According to the Social Security Administration, to qualify under Social Security rules, you must:
Not be able to work or engage and gainful activity because of a medical condition
Not be able to do the work you did or be unable to adjust to other kinds of work because of a medical condition
Have a condition that has lasted or is expected to last for at least one year or to result in death
The Social Security Administration uses a step-by-step process in which they ask five questions to determine disability. The five questions include:
Are you currently working?
Is your condition severe?
Is the condition found in the list of disabling conditions?
Can you do the work you did previously?
Can you do any other type of work?
Social Security Disability Practice Areas
Our legal team has years of experience understanding the complex disability laws and regulations that govern our clients' ability to receive Social Security disability benefits. Every person's situation is unique. The attorneys at Hankey Marks & Crider use a customized legal approach to address the issues that you are facing.
We have decades of combined experience, skill, and knowledge that enable us to take on an array of issues. These are some of the challenging legal situations that have faced our clients. If you do not see the issue that you are facing on this list, call our office to learn about your options.
Social Security Disability Insurance (SSD/SSDI): Individuals who have worked long enough in a job where they contributed to Social Security may be eligible for disability insurance.
Supplemental Security Income (SSI): These benefits are for the elderly and disabled who have low income and resources and have not earned the number of credits required to be eligible for SSDI.
Social Security Disability claim filing: The claims process for SSDI is complex and challenging. Many people are denied their first application. Our legal team can help with completing the claim form and meeting the deadlines to file the appropriate paperwork.
Social Security Disability claim appeal: If your first claim is denied, we can help gather any additional evidence necessary and assist you with filing an appeal.
Social Security Disability representation: In some cases, the initial claim and any appeals could be wrongly denied. In this case, you may have the opportunity to file a lawsuit to fight for your right to benefits.
How We Can Help You
After years of experience with filing claims and representing our clients in appeals and lawsuits, we understand some of the common reasons that Social Security Disability benefits are denied. We can help protect our clients avoid these stumbling blocks, and work hard to ensure that your claim has the necessary information in the first application. Some of the more common reasons that a claim is denied include:
Lack of medical evidence: If there is insufficient solid medical evidence of your disability, your claim can be denied. Solid medical evidence can include documentation from your physician, imaging studies, lab studies, and other medical records kept by your primary care physician. This might include any physician's notes they wrote to excuse you from work and documentation of your inability to return to work after a significant illness or injury.
Past denials: Do not make the mistake of filing a new application if the initial one is denied. Instead, file an appeal on the first application. Filing a new application increases the likelihood that the second application will not be approved.
Earning too much money: SSDI benefits are designed for people who cannot work. If the applicant is continuing to work and making too much money, they are ineligible for SSDI benefits.
Failure to follow treatment: It is essential that you see your healthcare provider and follow their advice for all treatments. This includes any physical therapy, medication, or specialists that they recommend you see. Your application can be denied if there are gaps in medical care, as these gaps indicate that you may not be as disabled as you claim.
Failure to cooperate: After submitting a claim, you may receive requests for additional information. If you do not submit this information or fail to cooperate with other requests from the Social Security Administration, your claim can be denied.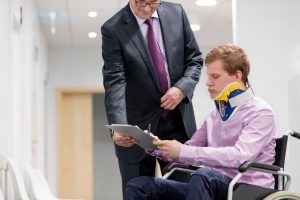 Why Choose Hankey Marks & Crider?
Our team is skilled at representing and advocating for individuals who are injured and disabled across Indiana. Our client-focused approach puts you and your goals first. Unfortunately, even people who have a serious disability can have their claim rejected if the correct forms aren't filled out, the filing deadlines aren't met, or the necessary documentation is not submitted.
Our experience gives you a significant advantage at any stage in the filing process when you have us on your side. Each day, the Social Security system is flooded with applications. Even minor errors on your claim can delay the process. If you are considering filing for Social Security disability benefits, you need the services of an experienced attorney.
Contact Us Today for Help with Your Social Security Disability Claim
We focus on open, honest, and transparent communication with our clients. We want to make the process of obtaining SSDI benefits as quick and as painless as possible. If you have a long-term disability, you may be eligible to receive benefits.
Our dedicated Lawrence, Indiana Social Security disability attorneys can help safeguard your future. Contact us today to learn how we can help in your specific situation. Call our offices at (317) 634-8565 to schedule your free initial consultation, where we will review your case and answer your questions.