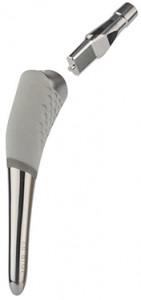 Another hip implant was recently added to the growing list of hip replacement devices that are failing at alarmingly fast rates, as the Stryker Corporation issued a voluntary recall of their Rejuvenate and ABG II modular-neck hip stems. As a result many Stryker hip recall lawsuits have been filed across the country.
In theory, both the Rejuvenate and the ABG II were designed to provide patients with a more accurate fit. Unlike most hip replacement devices that only offer a one-piece neck and stem component, with the Strykers, surgeons could choose from one of six Rejuvenate stems and 16 modular-necks, providing patients with a near-custom fit and angle. The Stryker ABG II offered eight right stems, eight left stems and 10 modular necks.
This ability to custom-fit the devices and allow for the perfect hip angle was just one of the selling points that Stryker used to market the Rejuvenate and the AGB II to younger, more active generations.
Instead, these young, previously-active hip replacement patients are now facing serious complications that have caused excessive pain, immobility and even the need for revision surgeries that could result in life-long disabilities.
While the Stryker hip replacements are not considered metal-on-metal devices like the DePuy ASR or the Biomet, they are still comprised of chromium, cobalt and titanium, and are causing patients to experience high levels of metal toxicity in the blood.
According to the Stryker website:
"…we decided to voluntarily recall these modular-neck hip systems due to the potential for fretting and corrosion at the modular-neck junction which may result in ALTR (adverse local tissue reactions), as well as possible pain and/or swelling at or around the hip."
Adverse tissue reactions can be very serious and have so far caused complications in many recipients of the 20,000 Stryker Rejuvenate and AGB II devices sold prior to the recall.
Complications include:
Metallosis, or elevated levels of metal in the blood
Osteolysis, or thinning of the bones
Pseudotumors
Revision surgeries that are highly invasive
Necrosis, or the dying of the surrounding tissues
If you have suffered a failed hip implant, you should get immediate legal advice by calling our office at (317) 634-8565.