How to Prevent Motorcycle Accidents in the Autumn
As the season changes to autumn, the roads become more dangerous for motorcyclists. In the fall, the days are shorter, and the weather is less predictable. Shorter days and worse weather lead to increased hazards on the road, including water and leaves. In addition, schools reopen so there are school busses and school children. Finally, the holidays increase road travel dramatically in the fall. For these reasons, autumn is one of the most dangerous times of the year to be on the road.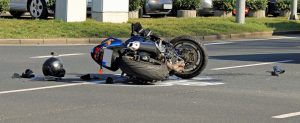 Of course, there are two cardinal rules to prevent motorcycle accidents, regardless of the season. First, never operate a motorcycle while you are impaired. Second, never drive a motorcycle while you are distracted.
Hankey Marks & Crider wants to keep you safe as you ride your motorcycle this autumn. If you suffered an injury in a motorcycle-related accident, call us for a free consultation at (317) 634-8565.
Tips for Motorcycle Safety in the Fall
Earlier this year, the National Highway Transportation Safety Administration (NHTSA) released data indicating that 2021 is already seeing an increase of 18.4% in traffic accidents. As you hit the road this autumn, remember these tips to prevent motorcycle accidents.
Slow Down in Bad Weather and Always Use Your Headlamp
One of the significant causes of motorcycle accidents is poor driving conditions. This is especially true in autumn. The unpredictable weather can lead to monsoon showers and slick roads. The leaves falling from the trees can hide water and other obstacles from the driver's view.
The combination of slippery roads and hidden obstacles are potentially deadly for motorcyclists. Remember too that as we fall back, daylight hours decrease. With its lack of visibility, nighttime driving can further camouflage dangers on the road that can be catastrophic for motorcyclists. If you are unsure of the road conditions, slow down and stay safe.
Another major cause of motorcycle accidents is that other drivers often fail to see the motorcyclist. We are all creatures of habit, and automobiles are simply far more common on the roadways. A driver may check their mirrors and still miss the motorcyclist. Therefore, motorcyclists should engage in defensive driving and consistently turn their headlamps on. This makes it far more likely that other drivers will see you and avoid unnecessary accidents and injuries.
Refresh Your Knowledge of the Rules of The Road Concerning Children and School Buses
School is back in session and, during the morning commute and in the mid-afternoon, our shared roadways are populated with children going to and from school—many in school busses.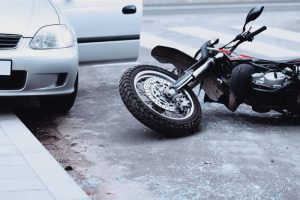 Over the summer, many drivers forget the rules of the road when it comes to school busses and yielding to children. It is an important idea to review the laws of the road when a school bus is present:
When approaching a school bus from either direction, all motorists must stop while its lights are flashing or arm extended.
If the bus is on a divided highway, only drivers on the same side of the road must stop.
If it is an undivided highway, all drivers must stop regardless of the number of lanes.
If you take a few minutes each fall to refresh your memory on the rules of the road concerning school bus safety and to remind yourself to expect slower commute times, the chances of you being involved in a motorcycle accident will diminish.
Remember that Holiday Traffic in the Autumn Leads to Increased Risk for Motorcyclists
There are simply more cars on the road in the autumn as the holiday travel season gets underway. This includes not only all people traveling from one location to visit family and friends but all the additional errands accompanying their arrival. The roads are going to be more crowded. The increased traffic is especially dangerous for motorcyclists as it is even more likely that an automobile will not see you. In these conditions, it is imperative to stay patient and drive your motorcycle defensively.
Speak to One of Our Indiana Motorcycle Accident Lawyers Today
Motorcycle-related accidents can cause catastrophic injuries. Our team of experienced Indiana motorcycle-accident lawyers knows how to conduct a thorough investigation of your case to obtain the necessary evidence for your claim. We understand how to assess your damages and maximize the compensation you receive.
Your initial consultation is always free. We will take the time to answer all of your questions and advise you of your legal options.
Call Hankey Marks & Crider today to get in touch with an experienced Indiana motorcycle accident lawyer, (317) 634-8565.
Related reading: Five Tips for Safe Holiday Travel