Community Involvement
Hankey Law Office Team Installs Garden at Pathway
A team of 12 members of Hankey Law Office arrived at Pathway the morning of July 17th to create a Community Gathering Space complete with fire pit, solar lights, Adirondack chairs, stump stools, a new gas grill and more! They trimmed out the space with lawn timbers, filled it with pea gravel and spruced up the porch, yard and swing, with plants and pillows.
Thank you to everyone who partook in this awesome experience!

Having a sense of community encourages and supports many aspects of personal change and overall health. Community support is essential for maintaining and enjoying sobriety. It is vital for immediate and long-term mental health.
2016 Pathway to Recovery Masquerade Ball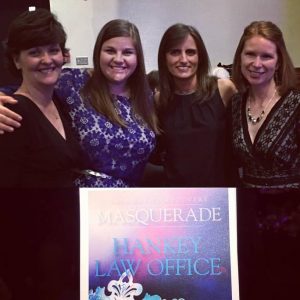 From left to right: Leanna McCormick, senior litigation paralegal, Megan Cain, associate attorney, Ashley Marks, associate attorney and Melissa Davidson, managing partner.
The Hankey Law Office served as a gold sponsor for the 2016 Pathway to Recovery's annual Masquerade ball. The sponsorship provided will help Pathway To Recovery provide housing and support services to homeless men and women who are overcoming addiction and mental illness on their way to becoming clean, sober and stable in the community. The Hankey Law Office has provided sponsorship to this event for the last two years.
Mutt Strutt
The Hankey Law Office was a proud sponsor of the Humane Society of Indiana's 2016 Mutt Strut. The event took place on May 15 at Garfield Park.
Mutt Strut, IndyHumane's largest annual fundraiser, is a dog-friendly festival that features a huge dog walk, food trucks, vendors, live music, and doggy talent shows. Hundreds of families bring their furry friends out to celebrate the fest and raise money for the Humane Society of Indiana, allowing the organization to continue providing services and housing to thousands of animals.
The attorneys at the Hankey Law Office love animals and were excited be out meeting members of the community and their dogs.

Hankey Law Office a 2015 Diamond Sponsor with Pathway to Recovery
The Hankey Law Office is happy to announce our new 2015 diamond sponsorship of Pathway to Recovery. Our team is proud to be associated with an organization that provides housing and a network of support to homeless men and women as they work to overcome mental illness and addiction. Pathway to Recovery has been making a difference in Indianapolis since 1989.
What started as a single facility providing 24-hour care to 22 homeless adults—all with just three staff members—has become an organization that operates six facilities to house and care for almost 100 homeless adults and families. To learn more about critical resources and services that Pathway to Recovery contributes to the greater Indianapolis community, or to join our firm in support of this invaluable organization, please visit www.pathwaytorecovery.org.
Hankey Law Office sponsors South Indy Youth Hockey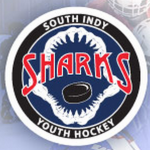 The Hankey Law Office is excited to announce our relationship with the South Indy Youth Hockey Association. Our office appreciates the mission of the SIYHA and their goal to teach important values and principles, such as integrity and respect, to young athletes in the southern Indiana area, and we have chosen to formalize our gratitude for this athletic organization and the great work they do through sponsorship of the association.
The organization currently hosts eight house teams, and offers opportunities for young hockey players of all ages to get involved. To learn more about the program, sign up as a player or coach, or join us in support of this phenomenal group, visit www.siyha.org.
Hankey Law Office to Sponsor the Annual St. Mary Catholic Church 4th of July Ole! Bash
The Hankey Law Office is proud and excited to sponsor the annual 4th of July Ole! Bash hosted by St. Mary Catholic Church. This year's festivities will take place on Saturday, July 4th, from 3pm until 11pm at 311 North New Jersey Street, and offers the best view of the Indianapolis fireworks show, preceded by food and fun for the whole family.
Admission to the event is free, and there will be music and entertainment throughout the day. A grand raffle and "game of chance" tent will give everyone an opportunity to win one-of-a-kind prizes. There will also be an open air market offering local crafts and gifts. All proceeds from the event will go to support the ministries of the parish. If you're looking for a fun and exciting way to spend your 4th of July, come out and celebrate Independence Day with the Hankey Law Office at the 4th of July Ole! Bash!
Hankey Law Office Hosts First Stomp Out the Stigma 5k/10k

The Hankey Law Office is teaming up with KEY Consumer Organization, a non-profit, in hosting a 5k/10k run October 25, 2015 at Fort Harrison State Park. The Indiana KEY Consumer Organization started in 1998 with the mission of protecting the rights of individuals with psychiatric disorders. Since their founding, the non-profit has worked diligently to develop local support groups, provide advisory assistance for mental health awareness groups, and advocate for public education regarding mental health.
This is the first 5k/10k that Hankey Law Office is hosting and we are excited to share this important cause with our community. If you are interested in volunteering at the event, several positions still have openings including packet pick-up , course set up, and course marshal spots. Proceeds from the 5k will directly support KEY Consumer Organization and the Indianapolis community. Please visit the links below to learn more:
Website/Registration: http://bit.ly/2015psych10k
fb: http://bit.ly/2015psychfb
Course: http://bit.ly/2015psychcourse
Volunteer Signup: http://bit.ly/2015psychvol
The Hankey Law Office Walks to Help End Epilepsy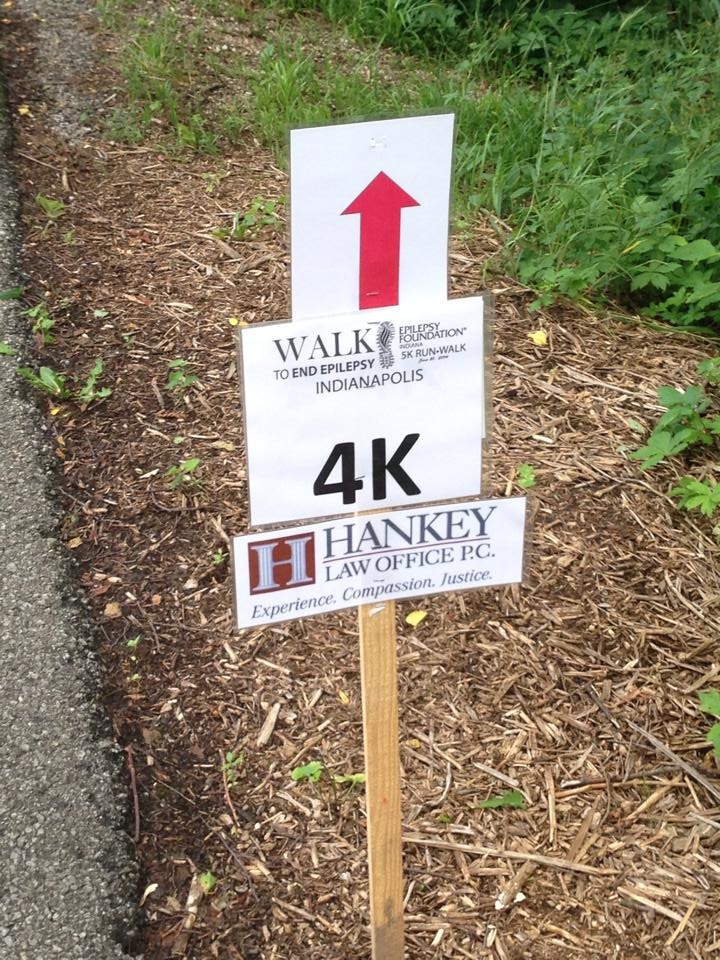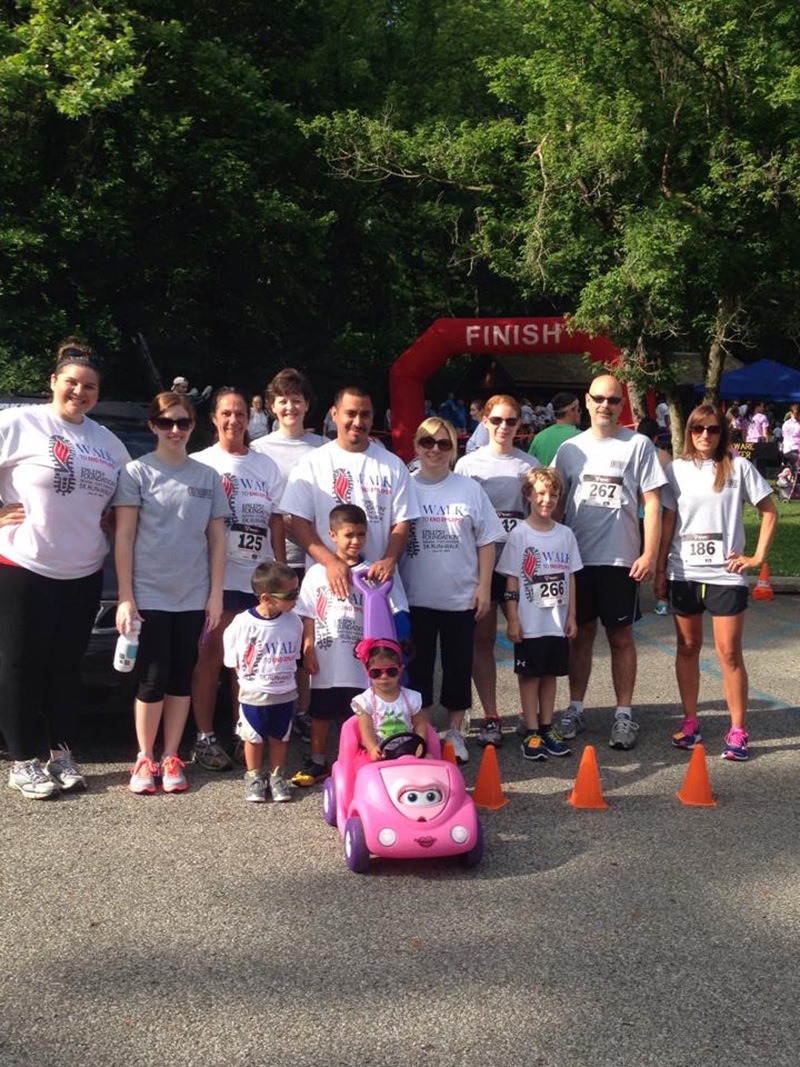 Our office was happy to participate in the 2014 Walk/Run to End Epilepsy at Ft. Harrison Park in Indianapolis on June 21. Thankfully, the weather was perfect for this year's event and the turnout was great.
The annual walk, which started in Indianapolis in 2008, has grown each year and has expanded to include walks in other areas of the state. For 2014, a timed run was also added, along with face painting and other family-friendly activities.
Event organizers hope the annual events increase awareness about epilepsy, raise money to fund research for a cure, and allow those affected by epilepsy to rally together.
This year's participants included those living with seizures and their caregivers, doctors, nurses and other health care professionals as well as government leaders, Epilepsy Foundation staff and volunteers, corporate teams like ours, and members of the general public that joined the fight to end epilepsy.
Epilepsy is a neurological condition that affects the nervous system and is known to cause seizures. Those seizures are caused by disturbances in the electrical activity of the brain and may be related to a brain injury or genetics, but often the cause is unknown.
About 65 million people worldwide and 2 million Americans have epilepsy. About 1 in 26 people in the U.S. will develop epilepsy at some point in their life. One-third of those live with uncontrollable seizures because no current treatment works for them.
For more information or to get involved, visit the Epilepsy Foundation of Indiana's website at indianaepilepsyfoundation.org.
Hankey Law Office Participates in 2014 Indiana Black Expo Annual Summer Celebration (IBE)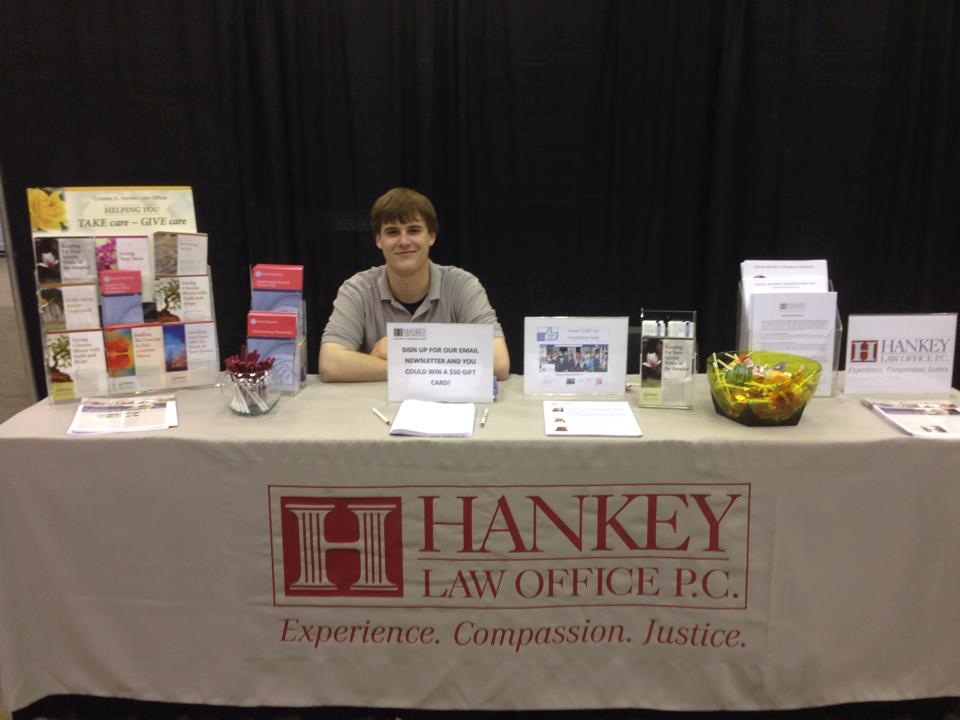 The Hankey Law Office was happy to participate in the 2014 Indiana Black Expo Annual Summer Celebration (IBE). The Summer Celebration gave us an opportunity to connect with our community by participating as an educational exhibitor.
As an exhibitor to IBE, we help the organization continue to deliver year-round youth and family programs and events to better serve our community. Our booth was focused on disability and injury-related education for those who unfortunately have experienced that first-hand. We provided literature, bottle openers, ink pens and an array of other goodies. Having the opportunity to discuss real issues with real people is invaluable for our office. Hopefully you'll never need us, but if you do we want to make sure Hoosiers understand their injury-related rights.
This was the first year for the Hankey Law Office to participate in the Indiana Black Expo. We enjoyed meeting so many great people and look forward to participating in 2015!
4th Annual Columbus Indiana Out of the Darkness Campus Walk for Suicide Prevention

Attorney Stacy J. Crider with the Hankey Law Office and her family recently participated in the 4th Annual Columbus Indiana Out of the Darkness Campus Walk for Suicide Prevention, an event that raises money for suicide prevention. The money raised through this fundraiser is used in a number of ways, including training first responders, funding support groups, funding research on mental illness, and for other important programs and services.
Crider and her family have participated in this event every year since it was first started, as they have a personal connection to the family of the woman who organizes the event. This year's event has so far raised over $12,000 of its $15,000 target, and people still have time to donate. Donations will be accepted until June 30th, and individuals who are interested in donating can click here to make a donation.
2014 Muscular Dystrophy Association of Central Indiana Summer Camp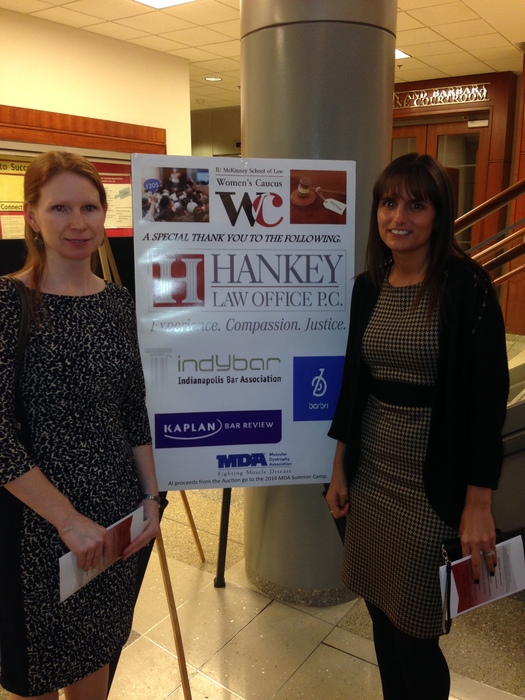 On March 6, 2014 the Indiana University Robert H. McKinney School Women's Caucus hosted the 37th annual Women's Caucus Auction. The auction proceeds benefited the MDA of Central Indiana Summer Camp.
The MDA summer camp is a week for children with muscle disease to feel normal and experience activities that they may never get to do anywhere else! It costs $800 to send one child to camp for a week. This cost includes their medical care, food, lodging and any other special needs they may have.
At the Hankey Law Office, we dedicate our time and practice to representing disabled adults and children. In an effort to give back, we donated $1000, enough to send one child to camp on us! At camp, kids with neuromuscular disease discover a world created specifically for them, and meet many other kids sharing the same needs and experiences. MDA campers dream about summer camp all year and often say it's better than Christmas; some even say it's changed their lives. Almost all campers agree that it's "the best week of the year." We hope our small contribution allows one child to have the week of their life!
This year, the auction brought in $18,530, which far exceeded its original goal of $10,000. The $18,530 is the equivalent to the cost of sending 23 kids to MDA's annual summer camp, which is where the funds will be directed.
Westminster Neighborhood Ministries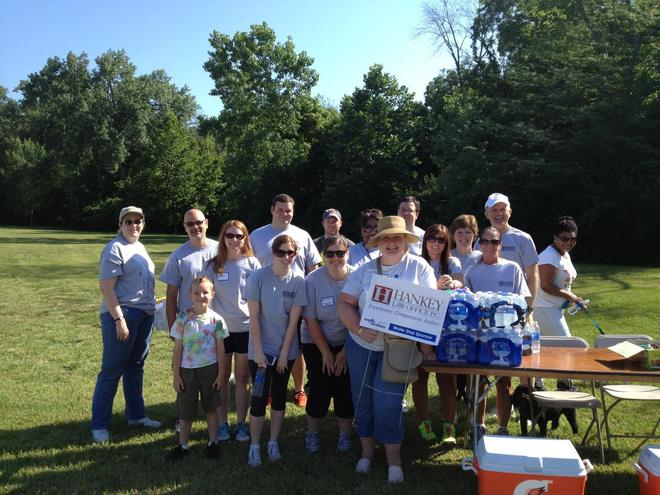 At the Hankey Law Office, we are proud to help individuals in our community by supporting the efforts of Westminster Neighborhood Ministries. This organization serves individuals, families, and organizations in North East Indianapolis by providing food and clothing for residents of this area, providing supportive services, and by offering programs that meet the educational, developmental, nurturing, and safety needs of children in the area. The Hankey Law Office is honored to have had the opportunity to support this important organization by donating food to their food pantry and by sponsoring two Indianapolis children to attend WNM's summer camp in 2012.
Walk for Wishes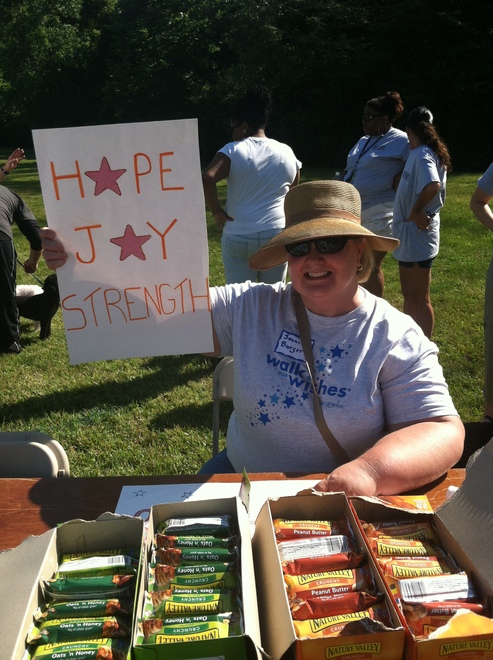 On July 13, 2013, the Hankey Law Office was able to support the efforts of Make-A-Wish® Ohio, Kentucky, and Indiana at their 8th Annual Walk for Wishes® presented by Stanley Security Solutions. Walk for Wishes® is a one- or three-mile walk that works to raise money to grant the wishes of children who are facing life threatening illnesses. This year, the Hankey Law Office was able to participate in this event by providing a team of walkers, manning a water stop along the walk, and donating $500 to Walk for Wishes in support of Make-A-Wish®.
2013 Conferences
Brain Injury Association of Indiana's 31st Annual Education Conference
This conference provides opportunities for education, networking and outreach to over 300 professionals who provide services to individuals who have experienced brain injuries, as well as to the consumers.
2013 Key Consumer Mental Health Conference
This conference provides training and education support for those individual suffering from a mental illness. The organization's mission is to support the wellness and recovery journeys of individuals and to enhance the effectiveness of recovery groups, care providers, organizations and systems.