Indianapolis Attorney for Emotional Abuse in Nursing Homes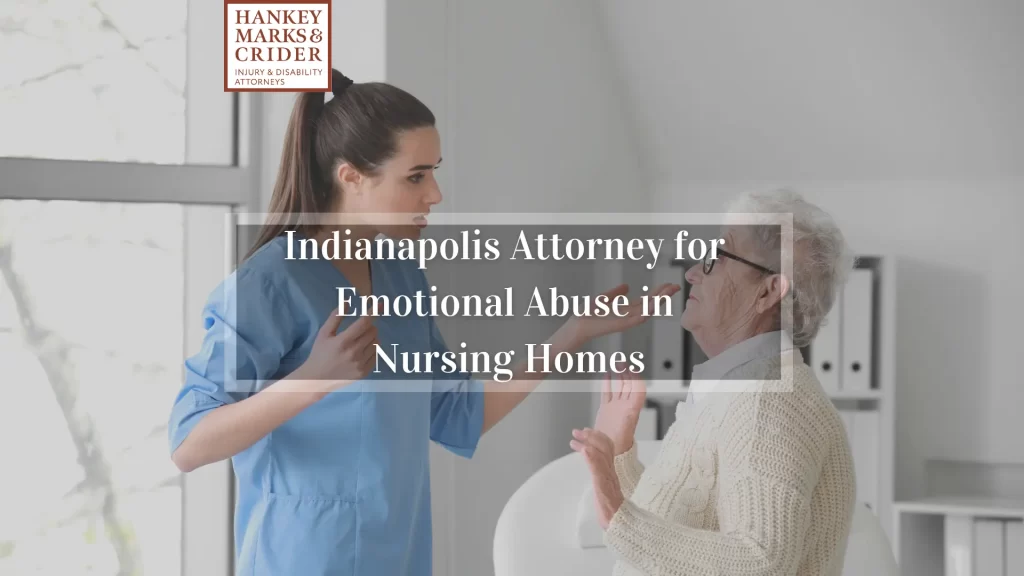 When you move a loved one into a nursing home, you will naturally have concerns about their well-being. However, you have every right to expect that they will receive kindness and dignity in their interactions with care staff members. Workers who abuse residents emotionally or verbally need to be held accountable for the pain and suffering they cause.
If you suspect your loved one is suffering emotional abuse in a nursing home, contact the experienced Indianapolis nursing home abuse and neglect attorneys of Hankey Marks & Crider immediately. We understand the distress these situations can cause, and our compassionate lawyers will do everything we can to help you put things right. Call us today at (317) 634-8565 or contact us online for a free and confidential consultation to learn more about your legal options.
Varieties of Emotional Abuse in Nursing Homes
Emotional abuse in nursing homes is any behavior that intentionally causes emotional or mental distress to another individual. This type of abuse can come in many forms, leading to devastating consequences for your loved one's psychological and physical health. These forms of abuse may include:
Humiliation or ridicule
Intentionally ignoring a resident's needs
Terrorizing or bullying
Shouting and intimidating
Blaming the resident for issues they did not create
Staff members may be dealing with personal problems or may be feeling overwhelmed if the facility is short-staffed, and their resulting stress may seep into their behavior at work. Be aware of:
Derogatory comments about their appearance or habits
Threats to prevent loved ones from visiting
Ignoring requests for assistance
Jokes about them in front of other residents or staff members
All these actions are forms of emotional abuse. If you know that your loved one is subject to these types of behaviors, speak to an attorney at Hankey Marks & Crider immediately.
Signs of Emotional Abuse in Nursing Homes
You may find emotional abuse toward your loved one difficult to prove if you do not have direct evidence. As such, documenting signs of abuse can help you build the case you need to take action. You can often notice these signs while you speak to your loved one or by paying attention to how they respond to certain staff members at the facility. Such signs include:
Behavioral changes, including rocking, thumb-sucking, or mumbling to themselves
An intensification of cognitive decline or dementia symptoms
A visible decrease in self-esteem
Increasing mood swings, depression, or anxiety
A sudden increase in shyness
Disturbed sleep or eating patterns
Controlling, abusive, or demeaning behavior from the caregiver
As you document these changes and signs, communicate them to any administrators or members of staff you can trust. You should also voice your concerns to your loved one's primary care doctor and social worker. They may be able to take steps to address the problem.
Emotional Abuse and Staff Shortages
One of the primary reasons emotional abuse in nursing homes occurs is that many care facilities are short-staffed. Because there's a shortage of qualified staff, the people who take these jobs might lack the necessary qualifications and training. Some nursing homes are so eager to fill staff vacancies that they do not follow up on references or perform the required background checks while they are hiring. As a result, the people they hire may have criminal records or other unsuitable backgrounds for people who care for others.
Additionally, staff shortages in nursing homes increase the stress levels of everyone in the facility. Many nursing homes do not have enough supervision for their employees. Unsupervised staff members may believe they can get away with unethical behavior toward residents. Furthermore, when the ratio of caregivers to residents is particularly low, many workers may eventually reach their breaking point. Nevertheless, emotional abuse is always unacceptable. The seasoned attorneys at Hankey Marks & Crider could work to hold the responsible parties to account.
Consequences of Emotional Abuse in Nursing Homes
Nursing home residents who suffer emotional abuse may be subject to devastating mental and physical health effects, such as:
Depression
Anxiety
PTSD
Eating disorders
Chronic fatigue
Sleep disturbances
Loss of the will to live
Residents who suffer from these problems because of abuse may engage in self-harming behaviors or attempt suicide. According to a scientific study published in the Journal of the American Medication Association, elderly people who experience abuse are four times more likely to die than those who do not suffer mistreatment. This is why it is essential to notice the signs of abuse as early as possible and consult with a nursing home abuse lawyer.
Reporting Abuse in Nursing Homes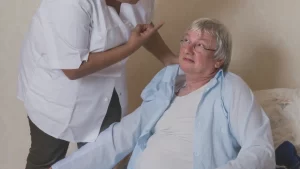 While reporting your concerns about emotional abuse to caregivers and healthcare professionals is essential, you should also notify someone outside the nursing home. One option may be a local services agency that has an Adult Protective Services (APS) division. Indiana State law requires everyone to report elder abuse to an APS unit or law enforcement.
When you report nursing home abuse to APS, they will examine your evidence and help you understand the options you and your loved one have. They will also investigate the facility and interview staff and administrators. Often these investigations bring more instances of abuse to the surface, and APS may refer the facility or workers to the district attorney's office.
An experienced Indianapolis nursing home abuse lawyer can help you report incidences of abuse to the necessary authorities.
Contact an Experienced Indiana Nursing Home Abuse Attorney
If you know or suspect that your loved one has been suffering emotional abuse in their nursing home, you might be able to file a claim for compensation for the mental anguish and health consequences they have experienced. The skilled Indianapolis nursing home abuse attorneys of Hankey Marks & Crider have the knowledge and skills to file a lawsuit to protect your loved one and to hold the responsible party accountable for their actions.
Call our offices today at (317) 634-8565 or contact us online for a free and confidential consultation with one of our compassionate attorneys. We will put our experienced and knowledge to work for you and your loved one.