How to File a Personal Injury Lawsuit
Were you injured by medical malpractice? Have you sustained injuries in a car accident that was not your fault? Were you injured by falling down some poorly maintained steps? All of these occurrences fall under the broad category of personal injury law. In a nutshell, if you are filing a personal injury lawsuit, you are claiming that you were hurt in an accident or incident caused by someone else's wrongdoing or inaction.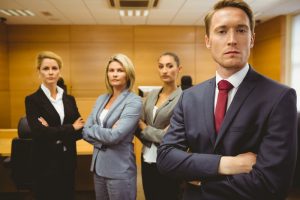 Types of Cases
The above examples all involve bodily harm, but personal injury cases aren't limited to that. You may also seek damages for emotional and psychological trauma, lost earnings, and loss of love, care, and affection if your spouse died in the accident. To pursue compensation in all of these scenarios, the key is to establish liability:  someone must be at fault.
When you have suffered harm by the negligent, careless, or intentional actions of someone else, you might be entitled to compensation. If you file an insurance claim or lawsuit on your own, you'll probably find the process frustrating, lengthy, and time-consuming. It's easy to make mistakes along the way. Hiring an Indianapolis personal injury attorney is a way to ensure that all your paperwork is properly filed and that you are professionally guided through the settlement negotiations or trial, if there is one in your case.
Initial Court Papers in a Personal Injury Lawsuit
Filing a lawsuit requires knowledge of the rules of the Indiana court you'll be filing in and a variety of documents that will need to be filed by specific deadlines. Those documents include:
Complaint/ Petition: In an outline of the case, you must list the parties involved, the damages sought, and the accident details.
Summons: This lets the defendant know that they are being sued for the damages you incurred.
Answer: The defendant may reply to the summons in one of three ways. They may accept the charges or deny them. They may also claim that there is not enough information for them to answer either way.
Additional Documents:
Counterclaim: This arises when the defendant also files a claim against you. Their claim must also pertain to the same accident your claim is about.
Reply to Counterclaim: Like in an answer to a summons, you can accept the counterclaim's charges, deny them, or claim there is not enough information to answer.
Cross-Claim: This occurs when there are multiple parties. A good example is when there is a car accident involving many vehicles.
Third-Party Complaint: This occurs when a defendant cites another party as being responsible for your injuries. An example would be if they claim that the manufacturer of a defective product is at fault.
Once all the paperwork has been filed, and all the claims and counterclaims have been answered, the legal process of discovery begins.
The Discovery Phase in a Personal Injury Case
This is a process of collecting and presenting facts about your case. It is also a chance for the defense to poke holes in your evidence and try to prove the accident was not their fault. As always, organized documentation is the key to success.
Types of evidence can include:
Photographs of your injury and, in some cases, the accident scene
Police Reports
Medical records and medical bills
The testimony of witnesses
Expert testimony
Repair estimates in the case of property damage
Doctor reports
The more losses you claim, the more substantial the evidence to support remuneration must be.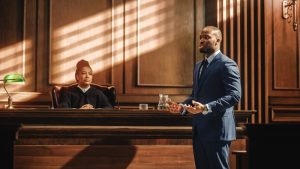 Trial Proceedings
Once the evidence has been collected and filed in the discovery phase, your case is ready for the courtroom. As long as there is no settlement reached or a judge does not dismiss the case, the stages of a personal injury trial are:
Jury selection, if you've elected a jury trial
Opening statements
Evidence presentation
Witness testimony
Closing Arguments
Verdict
If the verdict is not in your favor, you will have a decision to make: whether to accept the decision or appeal it.
Given all the steps that go into a personal injury lawsuit, you can see how it would be wise to have attorneys on your side, representing your interests through every stage of a lawsuit.
Contact Hankey Marks & Crider Now
If you have been injured in an accident that wasn't your fault and need to file a personal injury lawsuit, call (317) 634-8565 now to discuss your case with us. Another option is to submit a contact form online.
We at Hankey Marks & Crider know that suffering an injury that was not your fault is physically and emotionally difficult. Once you've chosen us to represent you, we will use all of our experience to help you navigate the challenging and confusing process of filing a personal injury claim. You can also refer to our FAQ page for answers to some frequently asked questions.
We are proud to have represented many satisfied clients. Give us a call today, and we can begin to fight for the outcome you deserve.