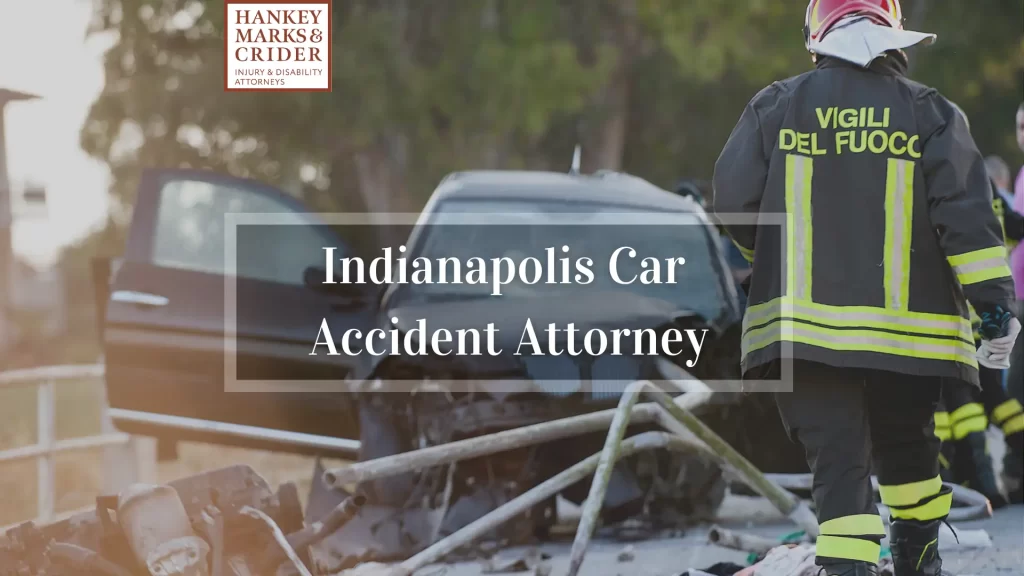 Hundreds of people die yearly, and thousands more get seriously hurt in Indiana motor vehicle accidents. Statistically speaking, every person in the United States will be involved in at least one car accident in their lifetime. Some escape with only minor injuries. Others may be permanently disabled, disfigured, or incapacitated. If you got hurt in a car accident, you may be entitled to financial compensation from the other party. To receive the highest settlement possible, it is in your best interest to seek legal counsel in filing a lawsuit against the other driver. Hankey Marks & Crider 's team of car accident attorneys has over 100 years of legal experience, and we are prepared to put our knowledge and experience to work for you. Starting a long legal battle never seems appealing after a traumatic experience.
We understand that you must focus on recovering and spending time with your loved ones. That is why many Indianapolis families trust Hankey Marks & Crider to handle their car accident claims. Our firm is passionate about managing every aspect of the legal process for you, and we will help ensure that you don't have any distractions from what matters most right now: your recovery. Contact us today to schedule a free consultation with an Indianapolis car accident lawyer by calling (317) 634-8565 or chatting with us through our website.
Why You Need a Lawyer
The other driver's insurance policy includes provisions to cover your damages if the policyholder is at fault. Unfortunately, insurance companies are more concerned about protecting themselves than supporting victims after devastating accidents. Their main mission will be to establish that their policyholder is not at fault, and they will do everything in their power to avoid paying you the compensation you deserve.
The court will have the final say on the matter, but you may have to file a lawsuit against the other driver to receive the compensation you deserve. Court proceedings can be arduous, and insurance lawyers are skilled at using your statements against you to invalidate your claim. To better protect yourself and your rights, it is wise to seek experienced legal counsel from a qualified law firm like Hankey Marks & Crider.
Why You Should Choose Hankey Marks & Crider
The last thing you should be worried about after a serious car accident is how to make ends meet while managing a claim against the other driver and their insurance company. Hankey Marks & Crider is prepared to represent your claim, and we will provide you with the highest-quality legal counsel possible. We are familiar with the tactics that greedy insurance representatives use to try to escape justice, and we will work tirelessly to hold them responsible for compensating you and your family for the injuries and emotional trauma you had to endure. You deserve justice, and we can help you achieve it. Call Hankey Marks & Crider at (317) 634-8565 or contact us through our website to schedule a free consultation today.
Indianapolis Car Accident Practice Areas
The car accident lawyers of the Hankey Marks & Crider may not be able to prevent car accidents from occurring. But we are dedicated to protecting the rights of auto accident victims. We handle cases involving the following:
No one is ever ready for a devastating car accident that leaves you or a loved one with serious injuries. Hankey Marks & Crider understands the tremendous pain you must feel after a negligent driver forces you and your family to suffer. We believe that when another driver's reckless actions bring pain and misery into your life, they should bear some responsibility. Emergency medical treatments, rehabilitation, and time away from work can wreak havoc on a family's finances. Our firm is here to protect our clients from financial ruin by holding the other party responsible for their poor decisions. You owe it to yourself and your loved ones to secure a financial future, and we will fight aggressively to get rightful compensation for you.
Indianapolis Car Crash Insurance Claims
Unfortunately for car accident victims in Indianapolis, it is often very difficult to get a fair settlement from insurance companies after a crash. Regardless of your coverage or insurance policy, insurance companies are almost always reluctant to give you the full amount of money you may deserve. To make matters worse, some drivers may have insufficient insurance to cover their liability; others may have no insurance. An experienced auto accident attorney from Hankey Marks & Crider can handle the following:
Proving Liability in Car Accident Cases
Remember to look out for your interests in the aftermath of a serious car crash. Never discuss liability issues, sign documents, or agree to any insurance settlement before consulting a car accident lawyer.
Proving Liability in Car Accident Cases
Obtaining a settlement from an Indiana car accident is based on proving liability. This is because Indiana is an "at-fault" state, which means that any driver who causes or contributes to an accident that results in injury is responsible for the damages the victim suffers. Your lawyer must show that the other driver was negligent in negotiating with the insurance company or litigate your case. Negligence is when someone neglects to act reasonably or ethically.
To establish negligence, you must prove the following elements:
The other party had a duty of care to operate their automobile safely and lawfully.
The other party breached this duty of care by driving irresponsibly and should have known their actions could endanger others.
The breach of this duty caused the accident that injured you and resulted in you suffering losses.
If you are the injured victim, it may seem apparent that the other driver was negligent.
Fault can be clear in some cases because of unmistakable law violations, such as:
Failing to follow a traffic regulation can give the presumption of negligence. This means that the driver who broke the rule must prove that they were not negligent. Other cases are more complicated, and it's up to the injury victim to prove the other driver was responsible. Your case is stronger when your side of the story can be supported by solid verification.
The most common and helpful forms of evidence include:
Police reports
Traffic citations
Proof a vehicle was lacking a required safety feature
Statements from all drivers involved
Statement from witnesses
Accident scene photos or video
Surveillance footage
A police report can often be the most significant evidence because it can include evidence of liability, such as traffic citations or the officer's educated opinion of what happened based on the physical evidence.
In some car accidents, both drivers can be found partially responsible. If you got rear-ended by another driver following too closely but had a missing tail light, you could share in the fault. This would be considered a "comparative fault" situation. Indiana law says you can still recover damages against the other driver in these cases. Still, the amount you receive decreases based on your share of the blame if your fault does not exceed 50 percent.
Types of Compensation Available for Car Accident Injuries
The auto insurance provider of the driver who caused your injuries is responsible for paying your compensation in a settlement. This compensation reimburses you for damages (the types of harm you suffered). There are two categories of damages:
Economic damages (general damages)
These are damages that can be calculated based on losses that have specific dollar amounts, such as:
The cost of current and future medical treatment includes all the payments for ambulance transport, hospital stays, surgeries, physical therapy, medications, rehabilitation, and other related expenses. You can request compensation for future medical bills if your injury requires ongoing care or property modifications. An experienced attorney will rely on the guidance of the medical professionals they consult with to determine a justified amount for these damages.
Current and future loss of wages – Injuries can prevent you from being able to work, which leads to a loss of income. When you cannot return to work at full capacity or at all, you are entitled to damages for the money you cannot earn.
Property damage – When another driver's negligence has damaged your vehicle or other property, you can get compensation for the loss. This can cover repairing your property to the highest standards or replacing it if it is beyond repair.
Non-economic damages (special damages)
These damages are much more difficult to calculate because they do not have a certain dollar amount and require subjectivity. Available options for car accidents include:
Pain and suffering – In addition to the cost of medical treatment, injuries cause physical and mental distress for victims, including anxiety and stress. You are entitled to compensation for this based on the type of injury, how severe the pain is, and the prognosis for potential future anguish from the injury.
Inconvenience – Accident victims may also be able to recover damages for the inconvenience endured. This can include compensation for losing the ability to enjoy certain life activities or the loss of use of a body part.
It's hard to predict how serious an injury will be right after a car accident happens. You can't be sure if complications from an injury will appear later or how much future treatment will be required. You should not accept a quick settlement from the insurance company because you'll be limited to that amount. There is no going back later to ask for more funds if your injuries cause you damage and suffering down the road.
When you work with Hankey Marks & Crider to pursue a car accident claim, our team will assess your injuries properly and keep you from accepting a settlement that is less than you deserve.
Frequently Asked Questions
If you have any questions or concerns we haven't addressed below, please contact Hankey Marks & Crider for answers by calling (317) 634-8565 to speak with a knowledgeable lawyer today. We look forward to helping you.
Can I sue for pain and suffering after a car accident?
Yes, you can claim damages for pain and suffering, property damage, emotional anguish, wrongful death, and disability (among other things). However, the Indiana court system requires the injured party to provide clear and convincing evidence to prove a claim. A highly-qualified car accident attorney can help you gather the evidence you need to claim compensation.
What if I am partially at fault for the accident?
If you believe you are partly to blame for the accident, you should still strongly consider retaining the services of a legal expert. Car accident claims are subject to comparative negligence, and the court will decide how much of the accident is your fault. Based on that percentage, they will order the other party to pay accordingly. For instance, suppose the court decides that 30 percent of the responsibility lies with you and awards you $100,000 in damages. In that case, the other driver will be liable for paying you $70,000 in compensation.
Do all cases go to trial?
No. Your attorney can usually settle with the insurance company before your case goes to trial. Sometimes a settlement isn't possible, however, and your case must go to trial. That is why you must find a law firm with a successful record. A firm that's prepared to take claims as far as necessary to get the compensation you deserve.
What are the auto insurance requirements in Indiana?
Indiana motorists are legally required to carry the following types of insurance:
Property damage (Minimum liability limit of $25,000 per accident)
Bodily injury (Minimum liability limit of $50,000 per accident and $25,000 per person)
Uninsured motorist property damage* (Minimum of $25,000 per accident)
Uninsured motorist bodily injury* (Minimum liability limit of $50,000 per accident and $25,000 per person)
Underinsured motorist bodily injury* (Minimum of $50,000 per person and per accident)
*Every insurance carrier must offer underinsured and/or uninsured motorist coverage, but the policyholder can decline it in writing.
Indiana Car Accident Statistics
According to the Indiana Criminal Justice Institute, Indiana's drivers were involved in 223,734 traffic collisions in 2016 (the most recent year that information is available). For every year from 2012 to 2016, over 32,000 accidents caused injuries to the occupants of the vehicle, and more than 700 drivers per year lost their lives due to a motor vehicle collision.
Unfortunately, casualties slowly increase yearly, with 768 fatalities in 2016. The trend is also true for the number of non-fatal car accident injuries. A five-year-high of 35,323 collisions in 2016 required the occupants to seek emergency medical treatment. Although traffic laws and safety regulations continue to improve, car accidents are still very dangerous.
Contact an Indianapolis Car Accident Attorney Today
If you get into a car accident, remember these steps: exchange insurance information with the other driver, file a police report, get medical treatment, and contact Hankey Marks & Crider. You should not deal with the consequences of another driver's mistakes on your own, and we can assist you through the entire process.
Our Indianapolis car accident lawyers can evaluate your case and help you recover the maximum compensation for your injuries. Call (317) 634-8565 today.