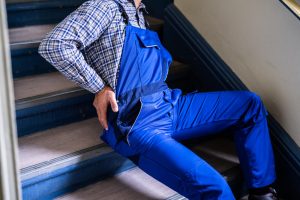 A slip and fall accident on someone else's property can cause a serious injury. The accident results from the property owner or another negligent party's actions. An employee, third-party contractor, vendor, maintenance worker, or another person could be at fault for a slip and fall. However, the property owner is typically liable for the victim's injuries.
You should seek immediate medical treatment if you get hurt in a slip and fall due to someone else's negligence. Then, you should consult with an experienced slip and fall accident lawyer. You might be entitled to compensation from the property owner and should have a knowledgeable and skilled legal team in your corner to assist you with your claim or lawsuit.
Types of Classifications in Slip and Fall Law
Property owners have an obligation to people who visit their properties. However, the classification of a guest determines the extent of the owner's liability in an accident.
The three main types of classifications include:
Invitee – An invitee is a person permitted to enter or invited to the premises for the owner's benefit. For example, someone shopping at a clothing store belongs to this classification. The owner owes an invitee the highest level of care and must locate and repair dangerous conditions or provide adequate warning.
Licensee – A licensee is someone who visits the premises with the owner's permission for their own curiosity, convenience, or entertainment. For example, someone might use their friend's private property to hunt deer. The property owner has a duty to refrain from willfully causing injury and increasing the possibility of injuring the licensee. The owner must also warn of hidden dangers on the property.
Trespasser – A trespasser is a person who enters the premises without the owner's permission. The owner has a minimal obligation to the trespasser. They must refrain from willfully injuring and increasing the possibility of harm to the trespasser.
How Property Owners Avoid Accepting Liability for Slip and Falls
Property owners aren't always willing to admit fault for a slip and fall accident. Proving an owner should be liable for your injury can be a challenge.
Some property owners use arguments in an insurance claim or lawsuit to try to blame the guest for their own injury or justify the dangerous conditions.
The most common arguments property owners use in slip and fall cases include:
There were warning signs near the hazard
The injured party entered a private area of the property
The accident victim wore inappropriate shoes or footwear that contributed to the fall
The guest should have seen the obvious dangerous conditions
The visitor's inattention, such as texting while walking, caused the accident
Common Causes of Slip and Fall Accidents
The dangerous conditions on someone's property can lead to a guest's injury. The most common causes of slip and falls include:
Loose rugs and mats
Inadequate lighting
Unusual flooring transitions
Defective stairs
Obstructed aisles
Damaged or missing handrails
Wet or slippery floors
Potholes in the parking lot
Cracked or uneven sidewalks
Compensation Available for a Slip and Fall Injury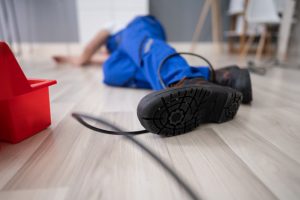 You could pursue compensation for your injury if the property owner's negligence caused a slip and fall accident. The owner should have liability insurance to pay for expenses a guest incurs from an accident on the property.
You could file an insurance claim to seek a settlement to compensate you for losses, such as:
Pain and suffering
Medical bills
Lost wages
Lost earning capacity
Mental anguish
Reduced quality of life
Damage to personal property
You could also receive compensation for these losses in a lawsuit against the property owner or another at-fault party. Additionally, you could recover punitive damages if you file a lawsuit. This form of compensation punishes the defendant for their actions. You must show clear and convincing evidence of the defendant's gross negligence, recklessness, or malice.
Statute of Limitations in a Slip and Fall Lawsuit
In Indiana, the statute of limitations allows a two-year timeframe to file a lawsuit for a slip and fall accident. That means you must initiate your lawsuit against the negligent party within two years of the date you sustained your injury. If the timeframe passes before you file, you could lose your right to compensation.
Contact Us
At Hankey Marks & Crider, we help our injured clients obtain the maximum compensation they deserve. You will receive personalized attention and support from the start to the finish of the process of pursuing compensation.
Our Indiana premises liability attorneys have over 80 years of combined legal experience. When you hire us, we will use our legal knowledge and resources to hold the negligent property owner liable for their misconduct. You can count on us to be your advocate and fight by your side until the end.
Call Hankey Marks & Crider at (317) 634-8565 today for your free, confidential consultation if you sustained an injury in a slip and fall accident due to someone else's negligence.