Indianapolis Lawyers for Burn Injuries from Fireworks Accidents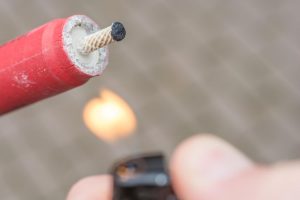 If you sustained a burn injury during a fireworks accident due to someone else's negligence, contact Hankey Marks & Crider to learn about your legal options. You might be entitled to financial compensation from the negligent or at-fault party.
Fireworks are a common staple during certain holidays, such as the 4th of July and New Year's Eve. Although they are fun to watch, severe injuries and fatalities can occur if someone mishandles them or they contain a defect. The person or company responsible for the accident should be liable for the injured person's medical bills and other expenses.
Burn injuries are often painful and require emergency medical care. Severe burns can lead to significant scarring or disfigurement and life-threatening complications. Many people develop psychological issues from the trauma experienced during a fireworks accident. Anxiety, depression, and post-traumatic stress disorder (PTSD) are common.
At Hankey Marks & Crider, we know the toll a burn injury can take. It can diminish your quality of life and interfere with your daily routine. Some people can't return to their jobs or complete basic tasks without assistance. You deserve the chance to pursue legal action and recover compensation from the negligent party.
Call the Indianapolis burn injury attorneys of Hankey Marks & Crider at (317) 634-8565 today for your free consultation and learn more about how we can help you after a fireworks accident.
Common Causes of Fireworks Accidents
Fireworks accidents are common in the United States. According to the United States Consumer Product Safety Commission, fireworks injuries caused 11,500 people to receive treatment in emergency rooms and nine deaths in 2021.
The most common causes of burn injuries in fireworks accidents include:
Setting off fireworks in a densely populated area
User inexperience or negligence
Early explosion
Pointing the fireworks in the wrong direction
Defective fireworks
Using fireworks indoors
The person or company that was at fault for the accident depends on the circumstances. The most common parties that could be held liable for firework burn injuries include:
Manufacturers – Manufacturers must supply fireworks to consumers that are safe to use. Errors in their design or manufacture can create inherently dangerous fireworks beyond the obvious dangers. Warning labels should advise the user of defects that could lead to an injury.
Sellers – Sellers are responsible for storing and selling fireworks that don't contain defects. Damage to the fireworks while transporting them to or from a warehouse or store could prevent them from functioning correctly. A seller could also be at fault for an injury for knowingly selling defective fireworks.
Entities – A public entity that sets off fireworks for the public might be liable for a burn injury. The entity could discharge the fireworks in the wrong direction or earlier than intended.
Individuals – Private citizens sometimes set off fireworks for family and friends. They must follow all safety precautions to keep their guests out of danger. Mistakes they make while setting off the fireworks could make them liable for causing someone's burn injury.
Classifications of Burn Injuries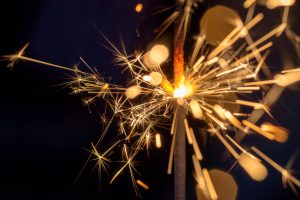 A burn injury is damage to the skin or tissue caused by heat, radiation, electrical, or chemical contact. Severity can range from minor to life-threatening. Symptoms depend on how deep the injury goes and whether it affects the nerves, muscle, or tissue below the layers of the skin.
Multiple classifications of burn injuries include:
First-degree burn – A first-degree burn is superficial and causes minimal damage. The injury only affects the outer skin layer. Common symptoms include swelling, inflammation, and redness at the site of the injury. The skin might peel while it heals but doesn't usually cause scarring.
Second-degree burn – A second-degree burn injury affects multiple layers of skin. Swelling and redness at the injury site are common. Changes to the skin's pigment and scars can develop during the healing process.
Third-degree burn – The damage from a third-degree burn extends below all layers of skin to the nerves. The injury could also affect tissue, muscle, and bone. A skin graft is often necessary to repair damage and replace dead tissue with healthy skin. Significant disfigurement and scarring can occur, especially if the burn is on the face or a large portion of the body.
It is crucial to seek immediate medical attention for a burn injury. You should go to the hospital after leaving the scene of the fireworks accident to start treatment.
Compensation for a Fireworks Accident
You could file an insurance claim depending on who is at fault for the fireworks accident and whether they have liability coverage. The settlement you recover might compensate you for your accident-related losses, such as:
Medical bills
Pain and suffering
Loss of enjoyment of life
Emotional distress
Lost wages
Lost earning capacity
Property damage
If you file a lawsuit against the negligent party for causing your burn injury, you might be able to recover punitive damages. This form of compensation punishes the defendant for their actions. You must establish by clear and convincing evidence the facts that support recovery to proceed with the action.
Fireworks accidents can have deadly consequences. Some people sustain fatal injuries or die at the scene. You could pursue a wrongful death case if your loved one died from a burn injury in a fireworks accident.
The person eligible to file a wrongful death lawsuit depends on who the victim is. If the victim is a child, one or both parents can pursue legal action. If the victim is an adult, the personal representative of the estate can initiate a lawsuit.
If you are a surviving parent of the deceased child, you could receive compensation for losses such as:
Loss of the child's companionship and love
The reasonable costs of counseling the parents or minor siblings of the deceased to cope with the death
Loss of services the child can no longer provide
Expenses related to hospitalization, medical care, administration of the estate, including attorneys' fees, and outstanding debts
The personal representative of the estate, a parent, or non-dependent child of an unmarried adult without dependents can recover compensation for losses such as:
Medical and hospital bills
Funeral and burial expenses
Loss of the deceased's companionship and love up to a limit of $300,000
Surviving dependents of a married adult can recover compensation for:
Loss of the deceased's future earnings
Funeral and burial costs
Lost training, guidance, love, care, and affection provided by the deceased
Medical and hospital expenses
Statute of Limitations for a Burn Injury
In Indiana, the statute of limitations allows a two-year timeframe to file a lawsuit. That means you have two years from the date of your injury to initiate your lawsuit against the negligent party. If you're pursuing a wrongful death case, you must file suit within two years from the date of your family member's death.
Contact Us
The Indianapolis burn injury lawyers of Hankey Marks & Crider have over 80 years of combined legal experience.
When you hire us, we will protect your rights and fight for the justice you deserve. You can count on us to aggressively seek the maximum available compensation and hold the at-fault individual or company liable for your burn injury.
If someone's negligent actions caused your burn injury in a fireworks accident, call Hankey Marks & Crider at (317) 634-8565 to schedule your free consultation today.