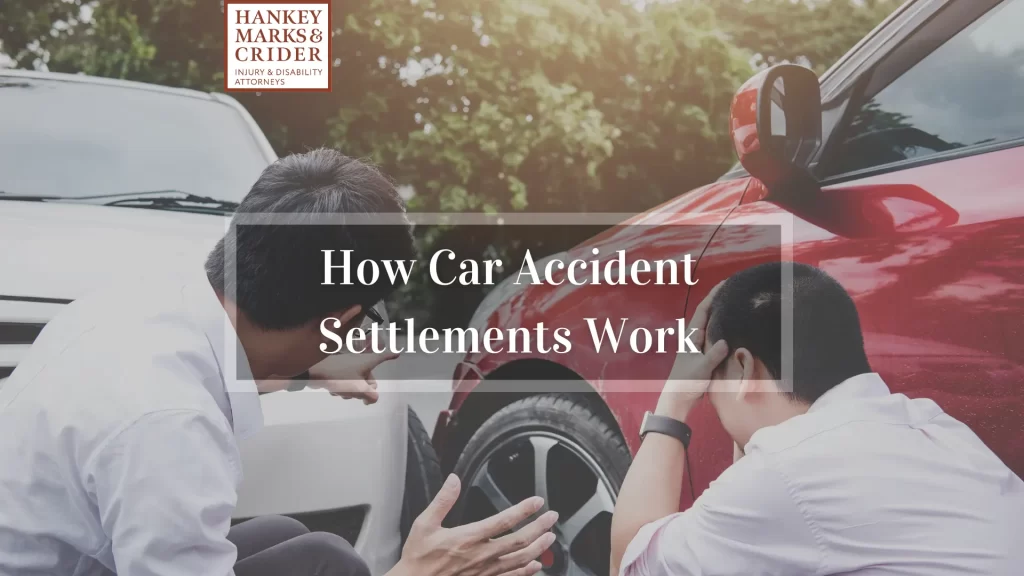 If you were injured in a car accident you didn't cause, you likely incurred plenty of bills, from your medical care to repairing or replacing your vehicle. A car accident settlement from the at-fault driver's insurance company can help cover your expenses and compensate you for your other losses. At Hankey Marks & Crider, our clients want to know how the Indiana car accident lawsuit process works and how much compensation they can expect.
While each personal injury claim is different, for the most part, you can expect the insurance settlement process to go something like this:
Submit a Claim to the Other Driver's Insurance Company
Sometimes, you may be fortunate enough to submit your claim to the other driver's insurance company and get a check to cover your damaged vehicle and any necessary medical care. If the accident was minor and the claim was small, the insurance company could approve it with little dispute.
Insurance companies aren't in the business of handing out large checks without investigating the accident. If your accident was serious, or the other driver's insurance company believes you had some responsibility for the collision, they may deny your claim.
Should this happen, then the claim settlement process can quickly become complicated. You should talk to an Indiana car accident lawyer if you haven't already.
Investigation
The insurance company's claims adjuster will investigate the accident and request your statement. You are not required to give them a statement so that you can refer the adjuster to your lawyer.
The insurance company will want evidence of the crash, like photos of your vehicle, a copy of the police report, and copies of your medical records. They use this to arrive at a value for your claim. The insurance adjuster may be interviewing witnesses, too. They could get this information from the official police record or their insurance.
Sometimes, the insurance company will look at your social media posts. They are searching for evidence that you aren't hurt as badly as you claim. Anything you post on social media could be taken out of context and used against you.
Talk to an Indiana Car Accident Attorney
Many car accident lawyers, including the ones at Hankey Marks & Crider, offer a free consultation, so it costs you nothing to ask a lawyer about your case. If the attorney believes you have a good claim, they can represent you on a contingency basis, collecting legal fees from your settlement at the end of the case. So, you can have access to quality legal advice without upfront costs.
The first step your lawyer may take is to investigate the accident independently. They will gather all the available evidence to prove your claim. Then, they can accurately assess the value of all your financial and intangible losses. Don't be surprised if your lawyer's value on your claim differs from the insurance adjuster's. Your lawyer represents your interests and will demand a full and fair settlement for you.
When you retain a lawyer, the following steps are likely to happen.
Send a Demand Letter
A demand letter is a formal letter drafted by your lawyer and sent to the other party. It states your demand for fair compensation for your losses. This includes your current and future medical treatment costs plus the cost to repair any property damage or replace the damaged vehicle or items. If you miss work due to your injuries, your lost wages will be included in the calculations.
You are also entitled to request compensation for intangible losses, like the pain and suffering you endured because of your injuries.
The insurance company may do one of several things:
Agree with the settlement request and send a check
Agree that their customer was to blame for the accident, but send a counteroffer for a settlement
Deny that their customer caused the accident and deny the claim
Your lawyer can continue settlement negotiations if a counteroffer is made. If the insurer denies the claim, your lawyer could file a lawsuit against the other driver to pursue the money you need.
Car Accident Settlement Negotiations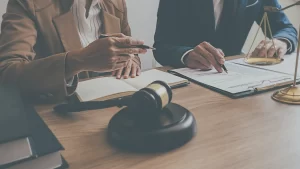 A car accident lawsuit is filed in an Indiana civil court. Once the driver and their insurance company realize your lawyer has filed a lawsuit, they may change their mind about settling out of court. Trials are expensive, and the other party may agree to a settlement to save the time and cost of going to court.
Sometimes, the accident lawsuit may be settled in mediation. This is a negotiation facilitated by a mediator. Your lawyer represents your interests, while the other driver and their insurer may have their own lawyer. Your case will probably go to trial if no settlement can be reached.
Trial
Each side presents their evidence to a judge or jury in a civil trial. You may be asked to testify about the incident. Your lawyer may call expert witnesses, too, to explain how the accident happened or how badly you were injured.
The judge or jury decides the case and may award you a settlement.
Do You Need Legal Help After a Car Accident?
Car accident settlements can be complicated, and having a lawyer to advise you can help you avoid common pitfalls car accident victims often make. An Indiana car accident lawyer from Hankey Marks & Crider can help in the following ways:
Protect your rights and prevent the insurance company from taking advantage of you
Value your claim accurately, including all your accident-related losses
Send a demand letter to the other party requesting a fair settlement
Represent you in settlement negotiations
Prepare a case for court and gather evidence to support your claim
Advocate for you in court
Hankey Marks & Crider offers a free consultation, so call us (317) 634-8565. The sooner you call, the sooner we can get to work on your case. Don't try to handle your case on your own. People who lawyers represent generally receive a larger settlement than those who represent themselves. Our years of experience handling car accident cases means you'll have a knowledgeable, skillful lawyer.
Related posts
Do I Need a Personal Injury Attorney?
Negligence Per Se in a Car Accident